J'aimerais te dire
Les Tzigales is a Gypsy Jazz band from Antwerp, established in 2013, by guitar player Ramsy Irani.
We just released our third album: "J'aimerais te dire" (01/07/19).

On this album the magical blend between guitar & trumpet is highlighted. We bring a warm mixture of Latin, Chanson, Gypsy Jazz & Bebop.
Ramsy Irani: solo guitar & vocals
Marie – Anne Standaert: trumpet & Flügelhorn
Sam Stuyck: ritme guitar & vocals
Jean van Lint: double bass & vocals
Eric Rits: brushes on title track "J'aimerais te dire"

Online downloadable on CD baby, iTunes, Amazon , Spotify…
Les Tzigales Classic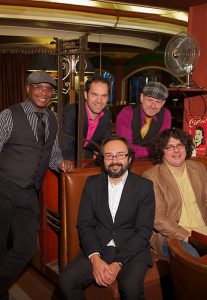 Les Tzigales Classic is inspired by the Parisian acoustic jazz bands of the 1920's & 40's, but also by todays "mainly" French generation of string-players in this tradition.
We draw from the spirit of legendary artists from the past and today such as Django Reinhardt, Stephane Grapelli, Paquito d'Rivera, George Brassens, Charles Trenet, Jacques & Thomas Dutronc, Romane and others, the repertoire of this group is as diverse as itself.
Featuring 2 vocal guitarists, violin, bass and percussion Les Tzigales is sure to please any musical palette.
Available for Concerts, festivals, weddings, private events and parties. Reach us at www.LesTzigales.be or come see us perform live! Or visit our Facebook page to follow our upcoming concerts!
Members:
Ramsy Irani: solo guitar & vocals
Alexandre Tripodi: violin
Sam Stuyck: rhythm guitar & vocals
Frank de Wolf: upright bass
Eddie C: percussion or Eric Rits : drums
Check out our new 2nd album: "Anima Amici"

Read the CD-review by Freddie Vandervelpen on Rootsville.
Anima Amici – 2015
1. Dance 4 Dante (Ramsy Irani, Lyrics Eddie C.)
2. South of the waltz (Paquito d'Rivera)
3. La belle vie (Sacha Distel)
4. Plaza Mayo (Ramsy Irani)
5. J'suis pas d'ici (Thomas Dutronc)
6. Anima Amici (Ramsy Irani)
7. Paris s'éveille (Jacques Dutronc)
8. Seul ce soir (J. casanova, P. Durand, R Noël)
9. Ménilmontant (Charles Trenet)
10. Prelude (Ramsy Irani)
11. Montagne Ste-Geneviève (Django Reinhardt)
12. Ik voel me heel klein (George Brassens, translation Ramsy Irani)
13. Poinciana (Maria Grever)
14. Wawa dji ge doo (Ramsy Irani)