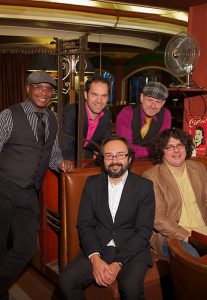 Les Tzigales Classic is inspired by the Parisian acoustic jazz bands of the 1920's & 40's, but also by todays "mainly" French generation of string-players in this tradition.
We draw from the spirit of legendary artists from the past and today such as Django Reinhardt, Stephane Grapelli, George Brassens, Charles Trenet, Jacques & Thomas Dutronc, Romane and others, the repertoire of this group is as diverse as itself.
Featuring 2 vocal guitarists, violin, bass and percussion Les Tzigales is sure to please any musical palette.
Members:
Ramsy Irani: solo guitar & vocals
Alexandre Tripodi: violin
Sam Stuyck: rhythm guitar & vocals
Frank de Wolf: upright bass
Eddie C: percussion or Eric Rits : drums
Check out our new 2nd album: "Anima Amici"

Read the CD-review by Freddie Vandervelpen on Rootsville.